Beautiful Thor Miramar!!
for sale in AZ 86401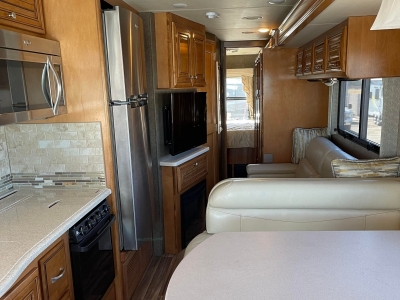 Beautiful Class A Motorhome that sleeps up to 7. Indoor and outdoor kitchen. Comes with outdoor gas grille and outdoor gas firepit. (Hooks right up to the propane tank on the rig.) Large kitchen table great for playing games! 40" TV in the main salon and a 32' Outdoor TV and another in the master bedroom. King Size bed in the back bedroom, a Queen Size over the driver's seat, and the bed and couch both convert into beds. Beautiful cream-colored pleather interior with nice wood grain floors.

Includes Dashcam, Blue Rhino hitch for towing, tables and chairs for outdoor use.

This is a gasoline coach with the gas fill on the back of the rig making it easy for you to pull into a fuel stop. This is a very easy rig to drive. All the safety features are included such as a backup camera and side view cameras.

Cruise control, self-leveling, generator, and did I mention outdoor kitchen?

The factory list of amenities include:
King-Size Bed
Auto Leveling Jacks w/Touch Pad Controls
Full Basement Pass-Through Storage
Glass Shower Door
Roto-Cast Storage Compartments
40" TV in Living Area
Power Patio Awning w/Integrated LED Lighting
32" Television in Bedroom
Slide-Out Room Awning(s)
32" Exterior Television
Frameless Windows
Blu-ray Player in Living Area
Pet-Link and Multi-Purpose Tie-Down
Outside Kitchen 2.6cf Refrigerator, sink & portable gas grill
Touchscreen Dash Radio w/Bluetooth
HDMI Video Distribution
Back-up Monitor
Bluetooth Enabled Radio Sys w/...