2020 Forest River NoBo 10.6
for sale in Florida Ridge, FL 32962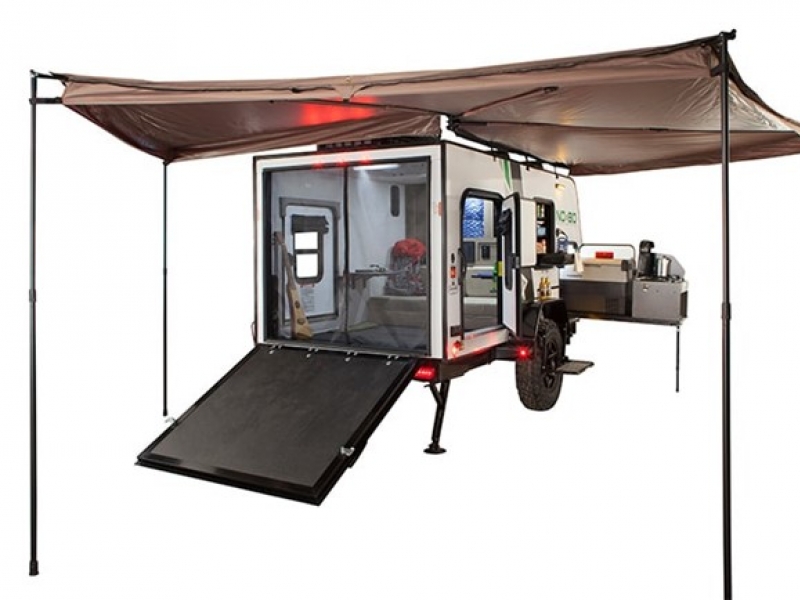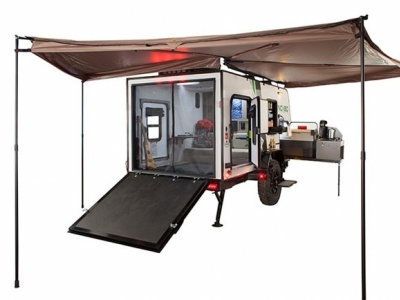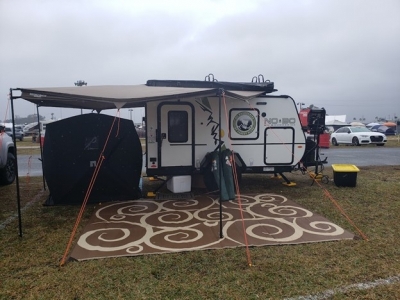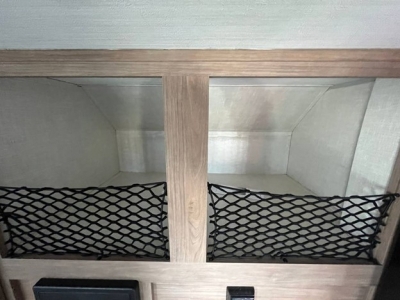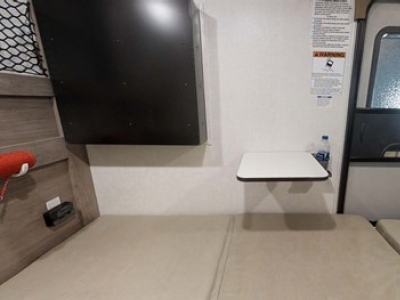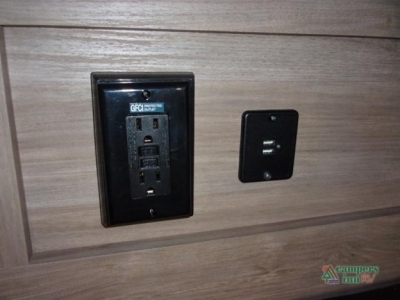 The NoBo 10.6 is essentially a teardrop-size trailer with a sleeping area that doubles as a toy garage. Interior height is less than 5 feet, which is along the lines of most teardrops and tiny trailers.
The two sofa chairs can be extended to the rear door, which serves as a loading ramp for whatever is transported in the garage. The floor is covered with a thick rubber mat. Tie-downs at each corner anchor the toys, and an in-floor compartment is ideal for storing tools.
There's a small fold-down table on each side wall for eating, a JBL Flip 4 Bluetooth speaker built into the bulkhead, a convenient USB charging station, LED lighting inside and out, and blackout shades for added privacy.
Kitchen and Storage
The NoBo 10.6 has an outdoor kitchen located on the street-side slideout rack below the forward cargo compartment. It holds a two-burner camp stove and cooler. Just forward of the kitchen is a pantry-like side compartment to hold the basic cooking seasonings and a small assortment of canned goods and other provisions. The NoBo 10.6 also has a 30-gallon freshwater tank onboard, which aids dry camping.
The garage is just big enough (60 inches wide by 82 inches long by 55 inches high) to accommodate a full-size ATV, and there's more storage space up front in the open area above the kitchen compartment.
Dometic air conditioner and heat. A 13,500-Btu low-profile air conditioner, 5,000-Btu heat strip.
Dometic cooling box with cool freeze in the kitchen pullout....
Location
Florida Ridge, FL 32962